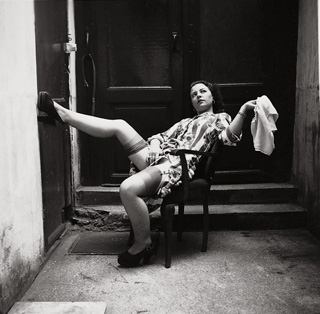 RUE DE LA JOIE : GEORGES THIRY (1904-1994)


Georges Thiry (1904-1994), a native of Liège, was a self-taught photographer, a great friend of the Surrealists and the subject, in 2001, of a retrospective in the Museum of Photography in Charleroi. Georges Thiry took photos of, amongst many others, his confidantes and prostitute girlfriends. These magnificent images in black and white, where humour and tenderness are always present, give the portraits an exceptional dimension of humanity.

A selection of these portraits will be presented throughout the town in the Decaux sites usually reserved for advertisements. Perfectly in tune with the theme of BIP2012, these images taken in the 50s and 60s show that Thiry's work, representing, as it does, woman not just in terms of her form and shape but in her whole personality, is sober, rather like a documentary, thus reflecting a style which radically breaks away from the codes of today's advertising which is often outrageous, colourful and sometimes obscene.

The use of urban furniture locations and billboards as a vehicle for the spreading of art is not totally new. Among the best-known artists, Felix Gonzales-Torrès, actually designed one of his series of photographs expressly for poster campaigns on panels usually reserved for advertising (Billboards, 1989-1995).
To place, in spaces so closely associated with advertising, images which do not follow conventional advertising codes, is to provoke astonishment, make the passer-by - so used to seeing the same type of message - stop and ponder. The force of the attraction and visibility of these advertising sites is very great and becomes even greater because the spectator is not going to find what he normally expects to find there.
This means of presentation is intended both as a homage to the work of Thiry and to these ladies of the night, aptly called "filles de joie".





LOVE'S IN THE AIR

"Does love speak to you? Tell us about it with an image! Open up your family albums, pull out the drawers in your cupboards or your sets of photos and send us a photo which, for you personally, best represents love. Whether it's in colour or black and white, very old or brand new, a bit damaged or frayed at the edges, whether it shows your mum, your canary or your other half, it doesn't matter, as long as it's - for you - your very dearest image."

The principle of the "Love's in the air!" project is to collect, thanks to a huge appeal to the citizens of Liège, amateur photos based on the overall theme of Love. The message that went out was. "Send us an image which, for you, represents Love!"

After being judged by a panel of personalities drawn from the world of the arts and politics, around fifty images will go forward. They will then be printed out and enlarged onto tarpaulin flags which will be hung in several streets in Liège throughout the period of BIP2012. Four prizes will be awarded, including the Public Prize being jointly organised with RTC-Télé Liège who will screen all the images on its website and where the public will be able to vote for its favourite photo.

The prize-winning ceremony will be held during the event Liège Culture 2017 in April.